1991 Mazda RX-7 Turbo
Artisa ArtFormed Night 18x9.5 +22
Falken Ziex Ze960 A/s 225/40
Tein Coilovers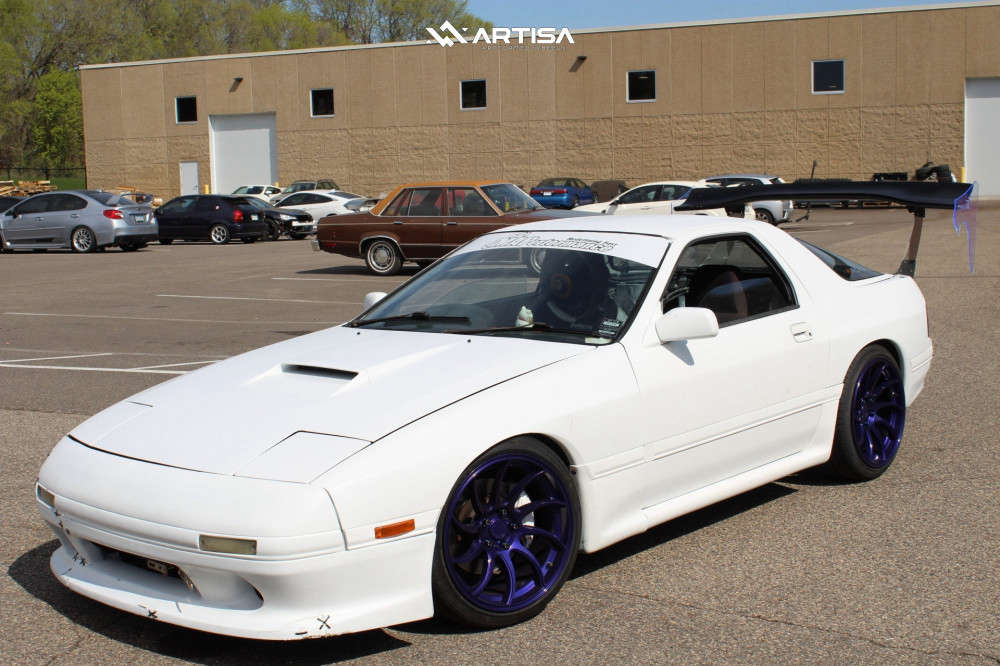 miatafolife's 1991 Mazda RX-7 RWD
Artisa ArtFormed Night 18x9.5 +22
Wheels
Artisa ArtFormed Night - Custom
Front: 18x9.5
Offset: +22
Backspacing: 6.1
Stance: HellaFlush
Rear: 18x9.5
Offset: +22
Backspacing: 6.1
Stance: HellaFlush
Tires
Falken Ziex Ze960 A/s
Front:
225/40
25.1"x8.9"
Rear:
225/40
25.1"x8.9"
Details
Suspension
: Coilovers
Suspension Brand
: Tein
Rubbing
: No rubbing or scrubbing
Trimming Details
: Front and rear roll
Front Wheel Spacers
: None
Rear Wheel Spacers
: None
Details
: Big brake kit
Add to Favorites
Add My Ride
Edit My Ride
Similar Offsets
Gallery
Do 18x9.5 +22 wheels on 225/40 tires fit on a 1991 Mazda RX-7 RWD with Tein Coilovers?
Yes they do! This 1991 Mazda RX-7 RWD is running 18x9.5 +22 wheels, 225/40 tires with Tein Coilovers suspension, and needs Fenders Rolled and has No rubbing or scrubbing. As you can see from the pics this wheel and tire combo can be done!** With this 1991 Mazda RX-7, the stance is HellaFlush. Also remember spacers impact fitment, this ride is running None in front and None in rear.
** We always recommend finding a couple vehicles that have achieved this fitment, as this information is solely based on the owner of this vehicle. Although we review every gallery page, there are so many variables we cannot verify every fitment is possible or accurate. However, if all the other kids are doing it, IT MUST FIT!!
---
All gallery pages and information are added by the owners, or representatives of the owners of the vehicles. Custom Offsets LLC is not responsible or liable for the information posted on this site. Use at your own risk and always find multiple sources to confirm your wheel, tire, and suspension kit buying decision. 112 views.